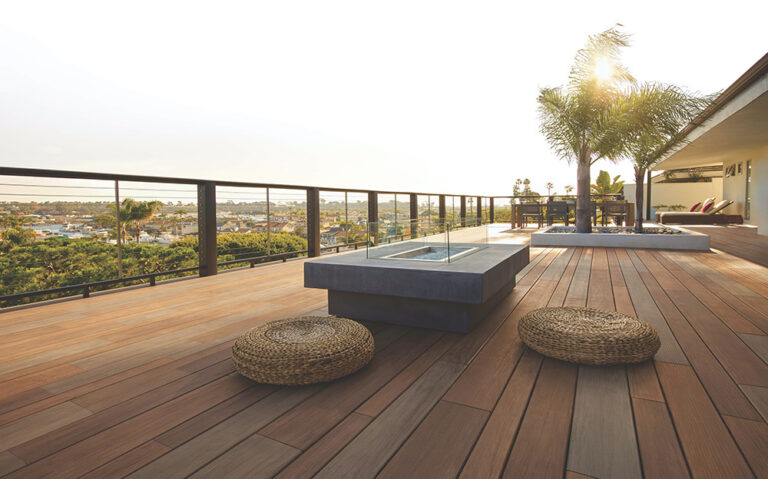 This content is made possible by our sponsors. Click here to add your content.
It's no secret that outdoor living is one of the hottest trends in the country, regardless of region, as homeowners seek to expand their space, add entertaining areas, and enjoy the outdoors. In fact, the American Institute of Architects' Q2 2019 Home Design Trends Survey found that interest in outdoor living areas continues to increase, as does interest in blended indoor-outdoor spaces.
What, exactly, are homeowners looking for in their backyards? Here are some of the trends to consider:
Low maintenance: Neither retiring Baby Boomers nor first-time-buyer Millennials want to spend their weekends painting and staining their decks. Composite decking products offer the look of wood without the typical upkeep nor worry about insects, rot, or fading. If you want the best of the best, consider capped polymer decking, such as the TimberTech® AZEK® Vintage Collection, which delivers a beautiful hardwood look with unrivaled performance.
Increased authenticity: Manufacturing advances have made composite decking more authentic looking than ever, with blended colors that emulate the multiple tones and striations of wood, highlights and lowlights, and various finishes. For example, the premium composite TimberTech® PRO® Legacy Collection features a hand-scraped finish for a rustic, reclaimed wood appearance.
Multiple widths: Homeowners don't want their outdoor spaces to look like every other backyard on the block. Multi-width deck boards, such as the Narrow (3.5″), Standard (5.5″), and Wide (7.25″) options from the Vintage Collection in the TimberTech AZEK line, provide versatility for a touch of the unexpected with multi-color hues. Bring the interior wide-plank flooring trend outdoors with wide deck planks or create a coastal vibe with narrow planks. To break up long expanses, install varied widths with monochromatic colors from the Harvest Collection in the TimberTech AZEK line, to create striped patterns and interesting inlays. The options are endless.
Multiple colors: Similarly, blending multiple colors creates a fresh, unique look. Try a classic pattern, combine geometric patterns for a mosaic effect, or use contrasting hues for inlays.
Indoor inspiration: One of the drivers of the outdoor living trend is the desire to extend the living space without adding more square footage. As such, outdoor spaces are starting to reflect an indoor vibe, with cozier furniture, delineated activity areas (such as for seating, dining, and cooking), and more prevalent and eye-catching lighting.
Incorporating picture framing and inlays, or even simple divider boards in a contrasting color, can assist with setting off distinctive spaces. For example, this deck features an area rug-inspired section created with TimberTech AZEK Vintage decking.
Blurred lines: Similarly, homeowners want transitions from indoor to out to be as seamless as possible, which is driving demand for multi-panel doors and other expansive openings that slide out of the way with low or no thresholds. Decking and pavers coordinate with interior flooring, or vice versa, to further blend the zones.
Amp up the accessories: A deck without a complementary railing feels unfinished, and the endless options available today leave little excuse to skimp on style. Eye-catching railings in kits make ordering and installation easy, whether you want to blend with the deck material or add contrast with a cable rail or glass panels. And don't forget lighting accents—which ensure the space can be used after dark while adding to the ambience.
Ready to learn more about decking and design options?
Contact your local Weyerhaeuser Distribution Sales Representative for more information and to discuss your needs.