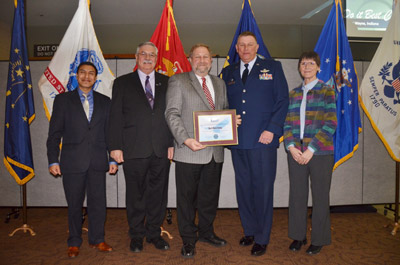 FORT WAYNE, INDIANA – The Department of Defense has recognized Do it Best Corp. for its ongoing efforts in supporting its employees called to active duty in the military.
The Indiana Employer Support of the Guard and Reserve (ESGR), an agency within the office of the DoD's Assistant Secretary of Defense for Reserve Affairs, presented the Pro Patria Award to Do it Best Corp. on February 27. Given to only one employer statewide, it is the highest state-level award given to a civilian employer by the Indiana ESGR committee.
The Pro Patria award recognizes Do it Best Corp. for its support of employees who are members of the National Guard or military Reserves. Recipients of the award demonstrate exceptional support for U.S. national defense by adopting personnel policies that make it easier for employees to serve as Guard members and reservists.
"In appreciation for the support they provide our military and their families, Indiana ESGR is pleased to present Do it Best Corp. with this prestigious award," said Steve Lynch, Indiana State Chairman of ESGR. "The greater honor, however, is to employ brave men and women who serve in our United States armed services. We know that without their dedication to our country, life as we know it would be much different. This dedication and their sacrifices afford us all the freedom and liberty we hold so dear."
"We are so incredibly honored to be recognized by the ESGR," added Dan Starr, President and CEO of Do it Best Corp. "Of course, awards are not why we work hard to support our active duty employees. We do it because we understand and value the considerable sacrifice they make in service of our country – both at home and overseas."
In addition to presenting the Pro Patria award, ESGR also announced Do it Best Corp. as one of only 139 national semifinalists for the 2016 Secretary of Defense Employer Support Freedom Award (commonly referred to as the "Freedom Award").
The Freedom Award is the highest recognition given by the DoD to employers for their support of National Guard and Reserve members. Employers selected for this year's award will be honored at the Pentagon in an official ceremony in August. ESGR received 2,424 nominations for employers in all 50 states, Guam-CNMI, Puerto Rico, the U.S. Virgin Islands and the District of Columbia. Up to 15 awards are presented to employers in three categories – large (500 or more employees), small (fewer than 500 employees), and public sector.
This year's 30 finalists are expected to be announced in April, with the recipients being announced in late June.
Source: Do it Best Corp.