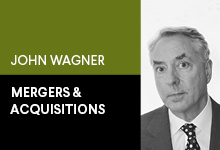 I can't tell you how many company sellers wrongly calculate the dollar value of inventory when they are tallying up their company's worth. Usually, when our firm has an initial conversation with a seller, the seller tells us their EBITDA, which is the basis for the company's valuation. (In almost all cases, companies are purchased as a multiple of EBITDA, as I have written of extensively in this space.) The conversation usually goes something like this. Seller: "We had a $2 million EBITDA in our last fiscal year. I know that companies like ours are being acquired for 5X EBITDA, so our company is probably worth 5X $2 million, totaling $10 million. I own the real estate, and I know that the buyer probably won't want the real estate, so let's get a triple-net lease set up."
So far, so good.
Then the conversation can go astray a bit if the seller adds the following: "I also want a check at close for the inventory. We just did a hard count, and it's going to be another $2 million. So, I want $12 million for the business, all in."
Well, not quite. You may get a check at the closing for a certain type of inventory, but it's the exception not the rule. Here's why.
First of all, look closely at our example of a business worth $10 million, assuming the real estate is leased back to the acquirer. What exactly was purchased for that $10 million? Just the brand, the rolling stock, and payroll obligations? Hardly. The acquirer can create brands and buy trucks for far less than $10 million. The acquirer is actually buying the operation that drives the cash flow, and the inventory is the main feature of the business that drives the cash flow. So, you don't get an extra check at closing for your inventory if your quantities are within typical averages for your normal business cycle. In that case, the inventory value, when sold, is simply a factor in determining the EBITDA, which is the figure that's multiplied to determine the value of the company.
That said, there is an exception to this rule.
Let's say that you, like many lumber and building material dealers, bulk up on certain items, far beyond your immediate need. Perhaps you buy dozens of truckloads of plywood at seasonal low pricing, or you see a deal on siding that you take advantage of, or an attractive rebate on roofing pops up. Of course, you're going to take advantage of this.
Shouldn't you get a check at close for this excess inventory? Not necessarily, if these product purchases and bulking up of inventory are done as normal course business each  year. This kind of buying—even in large bulk—is just considered part of normal operations, and the value of the inventory will become evident in the working capital "PEG" calculation completed as part of the closing process.
The rule of thumb is that grossly excess inventory—clearly beyond what you buy for your normal business cycle—might be a credit to you at closing, or at least will be up for consideration. That needs to be discussed on a case-by-case basis between seller and acquirer.
The other rule of thumb you should be aware of is that there is a penalty for inventory underage at the closing as well. That underage would be revealed in the working capital PEG, which calculates how much working capital is required to run the business. The working capital PEG is based on the average of current assets and current liabilities over the previous trailing twelve months. As the seller moves toward the close, if there is a sell-off of inventories with no replacements (or steep discounting to generate cash), it would be reflected in lower inventories (current assets), and the seller may owe the acquirer a check to replenish the working capital for any shortfall after the close, in what's called a "true-up." True-ups typically happen 30-90 days post-close
The key concept here is clear: Calculate your required inventory with a broad view in year-long increments, even longer, and carefully build a case if you believe some of the inventory is beyond what's typical for any given business cycle.
John Wagner is a managing director at 1stWest Mergers & Acquisitions, which offers a specialty practice in the LBM sector. Reach John at j.wagner@1stwestma.com