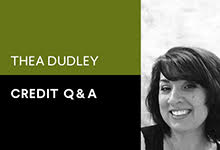 Dear Thea,
I'm a fellow credit manager here in the industry. We frequently are in the position of having to draw against our line of bank credit. Our sales are good, but we find ourselves in the position of financing our customers much longer than we originally offered. When I bring this up in sales and finance meetings, I get a lecture on how we need to be there for our customers, or they won't be there for us. Does no one but me see how this impacts our cashflow because our customers can't manage theirs? A little insight here please!
 Signed, Smartest guy in the room in Sioux Falls
Dear Smart guy,
Lack of cashflow is one of the top three reasons businesses fail, along with poor management and partnerships. I would add "making someone else's problems your problems" to that list, which is what you've got going here.
Let's make sure we are all on the same page when we are talking about cashflow. To clarify, there is cash and cashflow. Cash is what you have sitting in the bank. Cashflow is how the money is coming in (collecting) and going out (spending). Is it coming in and going out at the same rate or is more money going out than coming in?
I get to have these conversations often with companies. Here's an example:
"Thea, I am making a profit and I have assets (accounts receivable), but I don't know why I have a cash crunch."
My response is usually "Good for you little buddy, you have absorbed some accounting concepts and buzzwords that don't actually pay bills. The job may be profitable on paper and you may have accounts receivable, but neither of those things are cashflow. You cannot pay bills with them in their current state."
First things first: Admit you have a problem. If you are delaying filing your company taxes, late with your suppliers, juggling who gets paid this month or struggling to make payroll, your cashflow stinks. Making ends meet should not be part of your daily business routine.
These reasons are relevant if you are a two-person shop or 200. It's all the same, just on different scales. Now that you have admitted you have a problem, let's start you on your five-step program to cashflow nirvana.
Not treating OTC as an entire company focus. What do I mean? Everyone in your company should be aware of how you go to market. From sales to your back office, everyone should know this process because it is how you get paid. Relate it to the paycheck and the light bulb goes on. Is the billing correct and on time? Did you follow up on the job and eliminate any potential issues? By potential issues I mean eliminating reasons for someone not to pay you. Did sales clearly communicate what and how payment is handled? How to fix: Educate and train everyone in your company on how your billing and collections work and what to expect.
Not having a credit and collections policy. A common mistake in small to mid-size companies is that they take a "roll with it" approach. It leads to confusion. When do you put on account on hold, file a mechanics lien, or use of joint checks, when does it go to outsourced collections? Does your sales and accounting teams know what to expect on past-due accounts? How to fix: Write a quick down-and-dirty set of guidelines. It does not have to be a thesis; you can cover the basics and help keep that money flowing.
Not staying on top of your receivables. In other words, not staying on your collections. When do you start calling for money? One day past due, seven, if it is 30 days past due and you are just then calling, that is a big part of your cashflow issues. What I hear from contractors the most is that they don't want to look like they need the money, and they don't want to offend their customers. Seriously? I have worked with some big companies and I never had a problem calling and asking. That is how we pay our bills. And put that shoe on the other foot. If you committed to putting a roof on a house, did you tell them you would be there sometime between now and 120 days? No specifics, would that be ok with them? Train your customers how to treat you. Don't be afraid to call and to follow up on commitments. If you tell me Thursday that you mailed a check and I don't have it by Tuesday, you're getting a call. We had a deal. As a contractor you already had to lay out money for labor, and if you are not collecting before your supplier bill is due, you had to lay that out as well. How to fix: call early and often. Make it not ok to not pay you. Offer options (snail mail is so antiquated), such as credit cards, ACH, check by phone, etc. If you don't have a lockbox with your bank, consider one, because checks are in your account faster.
Not protecting your receivables. You don't check out your customers prior to agreeing to the work, you don't utilize mechanics liens and bond laws to your advantage, or leveraging joint checks or your contracts. How to fix: Start utilizing those options. Look at how to protect each sale. You have to ask yourself, if this deal went south and I never collect on it, would it put me out of business? It makes it easier to implement preliminary notices and joint checks and cross items off of contracts.
Poor billing practices. Not getting your billing done the same day/next day of the job is another way to hijack your cashflow. If you invoice a week, or a couple weeks late, or miss a deadline for submittals, you are giving customers additional time to pay you. You're also giving them time to find fault. As a customer, if you can't get your invoice to me within a day or two of the work, why should I worry about getting you paid on time? Besides, if you are this bad about getting invoicing done, you probably won't notice when I pay you really late. You don't appear to be paying attention to details. How to fix: Invoice daily and send statements monthly. Email all invoices and statements. It saves both time and money.
Bonus: Not growing your back office at the rate your sales are growing. You'll need the right people in the right role. Get a credit professional to collect your money. Have a professional bookkeeper and accountant for accounting and invoicing. Just because your wife, daughter, or friend's kid that needed a job, doesn't mean they are a good fit for your business. Hiring someone because they were an office manager once doesn't necessarily mean they have the skills your business needs. What did they actually do? Be sure to check their references. The back office is basically your cashflow, so you should care who is billing, who is tracking, who is collecting, and how that is happening.
I am not saying your company has a problem with cashflow and these are your issues. It appears you have a line of credit to draw on to cover your proverbial tail. Your customers…well that's another story. Use the down-and-dirty tutorial above to help educate your team and push the message out.
In other words, Smart guy, drink some coffee, get your boots on, put on some George Strait, and get your message out. If you ruffle some feathers, congrats! It means you're making progress…and people are listening.
With more than 30 years of credit management experience in the LBM industry, Thea Dudley consults with companies on a wide range of credit and financial management issues. Contact Thea at theadudley@charter.net.