Railings, other accessories can help deck projects stand out.
The average decking and other outdoor living projects are getting larger and more extensive, so it's no surprise that the demand for railings, lighting and other accessories is growing as well. Homeowners want the wow factor that an impressive railing system or extra trim options can bring to a project.
"People who want to be outside and who are building homes with views want to truly feel like they're outside and part of nature, as opposed to separating themselves from it with bulky, obtrusive railing," says Melanie Hess, Key-Link Fencing & Railing marketing coordinator. "Uncluttered, clean and simple looks (both interior and exterior) are definitely trending."
Customers are looking for the ability to customize their outdoor projects, just as they would a kitchen or other interior remodel. "People are no longer satisfied with cookie cutter solutions," says John Moss, RailFX national sales manager. "They want to be able to create a deck that blends in with their home and fits their lifestyle."
At the same time, contractors are looking for solutions that will make sure a deck lasts as long as the new alternative decking and railing options on the market. With that in mind, Fortress Building Products has introduced its Evolution Steel Framing.
"Most alternative decking and railing materials have 25- year to lifetime warranties while a typical wood frame has a life of about 12 years," says Marketing Programs Supervisor Alyx Armstrong. "The steel framing will stay perfectly straight without warping, crowning, twisting or rotting. Additionally, the Evolution Steel Framing system allows you to span farther than wood, resulting in less post and footers that block the views of the deck." Steel framing is the natural evolution of the demand for low maintenance products that started with alternative decking and railing products, Armstrong says.
"From our research, the deck builder who is an early adopter of steel framing is looking to offer something different from the competition, looking for a product that looks and installs like wood and is looking to eliminate fasteners and speed up installation," Armstrong says. "We have provided all of these attributes to the Evolution Steel Framing system. Additionally, because the joists stay perfectly straight, the contractor will get less call backs due to the wood shifting, warping and rotting allowing them to save on time and labor."
An explosion of options
The demand for improved aesthetics has resulted in a number of new products this year and last, as manufacturers look to offer new railings and other options.
Feeney is rolling out three new panelized infill systems for its Design Rail aluminum railing systems in the second quarter of 2019.
The infill panel options will include laser-cut aluminum panels, available in a variety of designs, including custom patterns. Other options will include stainless steel mesh panels and resin panels with organic materials, such as leaves and branches, embedded in the material. The steel and aluminum panels are for exterior and interior use, while the resin panels are for interior projects only.
"We were really looking for ways to expand the diversity of Design Rail and what you can do with it," says Brad Adsit, director of product development. "We wanted to see what types of materials are out there that we can incorporate into our existing pre-engineered frame. And just offer more selection for our customers and for designers and for contractors, but still keeping in mind the ease of ordering and installation of that product."
The mesh option has been an especially common request. In the past, says Feeney Chief Product Officer Andrew Toimil, contractors would have to work with a custom metal fabricator to get a product like that. Now, there is a stock option that makes it easier and less ex- pensive to deliver that solution. Feeney sells its railings in both 36″ and 42″ heights, so the panels will be stocked in those heights.
"The only thing that the installer might have to do is trim the width, depending on the spacing of the posts," Toimil says. "But the height will be pre-determined because we know our top and bottom rails are at a fixed height, so we can control that. There is not going to be lead time, custom design, all the stuff that goes with something like that."
AGS Stainless is also working to make railing options simpler for con- tractors and dealers by making it easy to deliver a high-end, custom look without tying up money in inventory.
"We do all the cutting, welding, and polishing. We number all the components," says Kevin Harris, director of sales & marketing. "When we ship the rails out, they're ready to be installed. And what that does is give the dealer the ability to capture a part of the railing market that would normally not come their way."
Instead of having to send that work elsewhere, dealers can capture that business because AGS Stainless will do all the fabrication on behalf of the lumberyard.
"The builder comes in, he gives the plans to the desk, they send that information over to us, we work up the estimate, send it back to them, they present it to the dealer, the dealer presents it to the builder, the builder says, 'I'm in,'" Harris says. "A few weeks later, the rails show up at the store. Everything's cut, welded, polished, numbered, and there are clear installation instructions."
That simplicity of installation has become only more important with many contractors struggling to find and keep their best employees.
"To the extent you can use products that are pre-built, designed for your project, but everything's built off-site, you reduce the skill level of the people that you need on-staff to install the product," Harris says. "Because with our product, we've captured all the measurements, everything's cut, polished, numbered. When we ship it out, the least-experienced person on the builder's team can install our rails, and it will look gorgeous."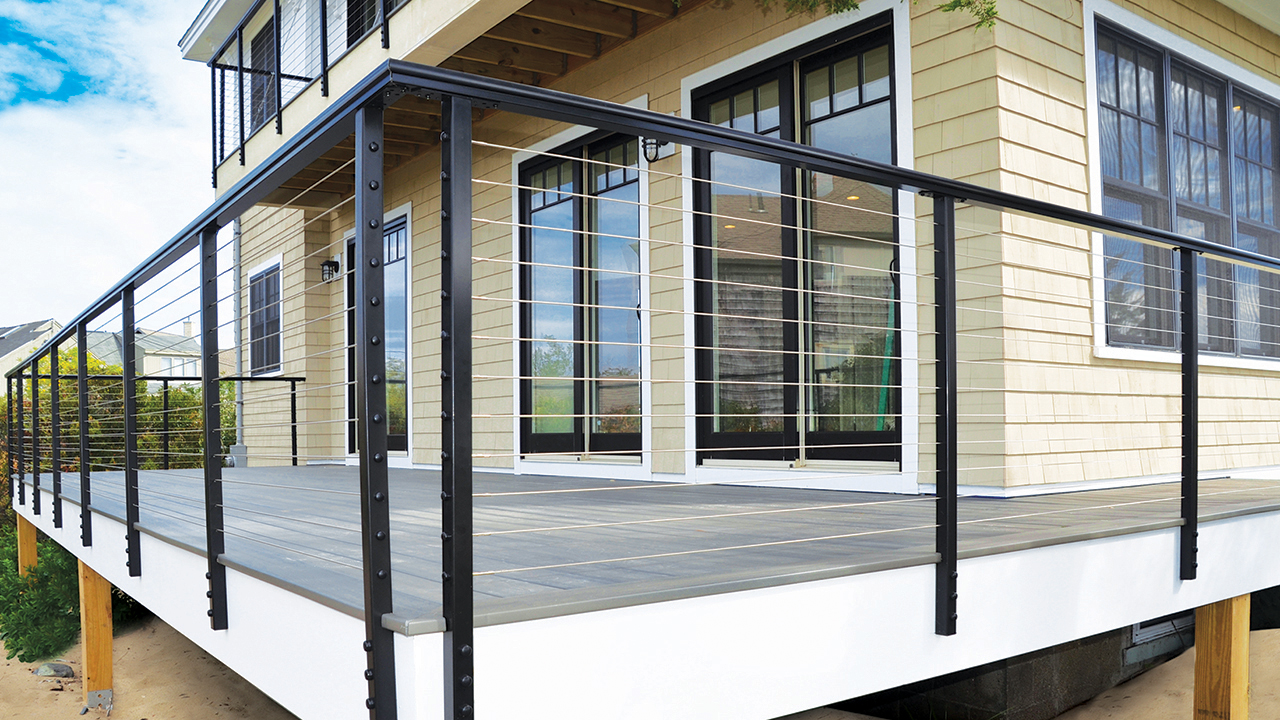 Atlantis Rail Systems has developed the Spectrum System, a new stainless- steel square post cable railing system featuring pre-drilled square posts and fittings to surface or fascia mount posts and mount customer supplied flat handrails. Cable infill offers a choice of 1/8″ or 5/32″ cable with HandiSwage Studs. The powder-coated, stainless steel posts are available in standard colors of black or metallic silver and special colors of pure white, pebble grey, light brown and dark brown.
"Previously Atlantis Rail didn't offer color options, posts other than a tubular shape or flat handrail mounting options," says Marketing Manager Carey Hicks. "The Spectrum System fulfills all these requests. With the multiple color options that will blend more easily with a customers' color scheme, a sleeker, square post with mostly hidden fittings and mounting options for a flat handrail, customers can choose which options work best for their individual needs."
Atlantis Rail also introduced the NOVA II System, an off-the-shelf aluminum post and rail cable railing system that features powder-coated aluminum posts, handrails and foot rails with horizontal cable railing infill. The posts and rails are offered in black, white and bronze.
The NOVA II System was developed as a more cost-efficient cable railing option than its stainless-steel cable railing systems, while also providing a simplified approach to a complete cable railing system as the NOVA II post and rails come in kits with everything needed for installation. Post mounting hardware, cable and cable mounting hardware are sold separately.
"We have engineered our systems in such a way that they can fit every design situation," Hicks says. "We give our customers a variety of options and styles to choose from, including post, rails, colors, cable size, cable hardware and lighting. Our RailEasy cable railing hardware line features a compression fitting which allows for easy installation with simple hand tools which eliminates the need for expensive swaging tools. Our cable is sold by the roll versus in preset lengths which enables the cable to be cut in the field, removing the hassle of miscalculation and reducing cable waste."
Customers are gravitating toward low-profile, high-quality materials, Hicks says.
"We've seen the most growth in aluminum railing and our cable in-fill, which is a pretty clear indicator of that," she says. "Black, white, and bronze continue to be our top colors."
Key-Link recently introduced a new ADA-compliant aluminum handrail to run either alongside a guardrail, or on its own, as well as a new under-deck bracket, which is a simple, code-approved way to install post mounts to wooden decks. Both of those products address the needs of customers to have simple, well-designed products, Hess says.
"We look at the little things that can save time and we build those features into our product," she says.
The key trend Wild Hog Railing is seeing in the market right now is that homeowners want products that are simple and don't obstruct their vision. People want to enjoy the view, not their railing, says Product Specialist Craig Smalley.
The company has added Hog Track to its offerings, allowing for a finished look to a rail, fence, arbors or other projects. The aluminum Hog Track is available in 6′ or 8′ lengths and black or white finishes.
"It makes for a much easier install for the builder, a high-volume installer or a DIY that's not familiar with how to install this type of project," Smalley says. "Our product is fully customizable. It can be a rail, an arbor, a fence, a trellis, a privacy screen. It's the one product that allows the builder to create whatever they want."
Nationwide Enterprises, the parent company of The Cable Connection, recently acquired RailFX, LLC. That means dealers will now be able to source RailFX and Ultra-tec products from one company.
"RailFX with Ultra-tec cable railing is one example," Moss says. "It combines the durability of aluminum with innovative design details to ensure lasting beauty, structural integrity and ease of installation all while reducing long term maintenance expenses."
All of the rails and posts are made from high-strength 600-aluminum extrusions and can be cut to length onsite and assembled using pre-engineered components that easily snap and screw together. Dealers don't have to keep the product in inventory because it is avail- able on a 48-hour quote turnaround, with a drop ship program to the lumber dealer.
"A key differentiator between our products and others is its ease of installation," Moss says.  "Everything is included right in the box, from the rails and posts to the fasteners.  There is no need to source anything prior to assembly."
The company also provides flexibility in colors, realizing there is not just one particular trend for all markets.
"Whether we're matching metal siding or providing pastels for a coastal region, our goal is to give the customer the look they desire," Moss says. "We also offer three different railing systems. Approximately 85% of what we sell is cable, but we understand one size doesn't fit everybody."
With homeowners opting for more low-maintenance options on their decks, Versatex is also seeing more demand for PVC trim products.
"These aren't your 10′ x 12′ decks any more, these things are outdoor living spaces and they want functionality, but they want aesthetics," says Rick Kapres, vice president of sales. "They want beauty and low maintenance."
The Canvas series of PVC cellular trim was originally launched in a WP4 profile in three colors (Macore, black cherry, and walnut) with amber added in 2018 and weathered grey in 2019.
Versatex also introduced Canvas on its stealth tongue-and-groove bead-board this year in response to demand from its contractors, Kapres says.
"One of the things that we're seeing the Canvas series used for is obviously the porch ceiling," Kapres says. "But a lot of deck builders are using it in con- junction with Trex RainEscape. Say you [have] a second story deck and a walkout basement and want that to be a usable area. They put the RainEscape on there to keep the rain from dripping through, but it doesn't look all that good aesthetically so they're covering it using the Canvas series."
Versatex sees a lot of opportunity with deck builders to expand the use of Canvas.
"They're using low maintenance materials, be it composite or PVC, or what have you, so why introduce any maintenance at all if you don't have to, to your exterior porch ceiling?" Kapres says. "You can get the look of mahogany or a real high-end wood but you don't have to stain it. You're not going to be out there staining your deck and your rail. Why stain your porch?"
Deck builders are also using the company's VersaWrap one-piece post wrap
"It's such an easy thing to install," Kapres says. "You've got the treated member coming up there, so you can just cut it to size, whatever size your newel post is. You just wrap that treat- ed post and snap it shut and now you've got a beautiful white sleeve there for your rail system."