Whether it's an ERP system or estimating software, a new point-of-sale solution or GPS tracking technology, there are plenty of options out there for dealers looking to improve their business through new technology.
At the same time, that wealth of options can be overwhelming. Choosing any new software is an important decision.
Having involvement from managers and other supervisors will not only help determine areas that need to be improved, but will help ensure employees are on board with the changes, says Jason Parchomchuk, Product Manager for BisTrack at Epicor.
"You need that strong leadership to get the employees to buy in," he says. "If you have that, it's going to make the job a lot easier."
Doing your homework up front can help make that transition go much smoother, and avoid problems in the process. "First, they should find a system that fits their business, its needs and users," says Jeff Rogers, Marketing Director for Paladin Data Corporation "Moving your business to any digital platform is a big commitment, so merchants need to make sure the system they choose solves their needs now and in the future."
Know what you want
One of the most important steps when looking at making a change in software is being sure you know what you want out of the solution.
"Involve all of the managers of key areas of your operation—sales, mill- work shop, logistics, accounting," says Pat Gannon, Vice President of Sales for Ponderosa Software. "Use this group of in-house experts to identify bottlenecks and areas for improvement. This includes areas where you know you're not as cost-effective as possible or that can be improved through access to better information or even automation."
Those key managers can help a company identify specific areas for improvement. Ranking those features and deciding how important they are can help make decisions down the road.
"Write that down, and then have an order of importance … so, I need to know what my specific requirements are, prioritize and rank them in such a way that you can figure out, how do I point and score these things," says Felix Vasquez, CEO of Hyphen Solutions.
It's also key to know about the technical capabilities of a potential partner. How often is the software updated? Can the company deliver on what they promise?
"Software should be a tool that allows you to do more with less," says Neil Faulkner, Software Sales Specialist with MiTek's Sapphire Supply. "But it also should be a tool that has a vision to grow into the future. … If you're bringing on a software platform, you want to ask those companies, 'What are your plans for the future? Where do you see this going?' MiTek updates their software about every three months. We're constantly evolving it. And we evolve because our customers are asking for us to make changes and updates and modifications, and we respond to that."
Before investing in a new system, consider the track record of the provider, says Seljax Sales Manager Lloyd Sherwood.
"Look at how long the software has been around and what new products they have introduced over the past couple years," Sherwood says. "This will give them a good understanding of the company and if they are innovative. Customer testimonials and referrals are always helpful [and] they give you an understanding of other dealers' experiences."
Holden Melia, Executive Vice President of Sales and Marketing for DMSi, agrees, noting it's important to know about the company's support and track record with other dealers.
"When you're changing ERP systems, check the longevity and financial strength of any potential partner," Melia says. "They should be competent, understand the market, and have a viable plan for the future. This isn't a short-term decision. You should be confident in the long-term future of whoever you choose."
Don't just take a yes/no answer from a provider—ask to see how the features you want are going to work for your company, Melia says.
"I find that most ERP providers basically say yes to 'Do you have this feature, do you have that feature,' but until you really dive in to see how it handles your requested functionality, you won't find the differences," he says. "Make sure you're exploring the depths of that system to see exactly how it will work for you."
Choosing an industry-specific solution will also help ensure a successful transition, says Cary Anderson, Vice President of Research and Development at Kerridge Commercial Systems. "To me, that's the most important part," he says. "It's historically been a very bad idea to use a generic software package to try and do building material stuff. And then the next thing would be is it fast enough and scalable enough for the size of their business."
With any new platform, there's going to be a learning curve, so dealers should look for a company that offers training and a good transition plan.
"Training is the most important part of the purchase," Anderson says. "The software is important, but the training part is often the most neglected and most under-funded. A lot of people don't understand, when they're signing a contract for a system, how much they need to really pay for the entire training process. You don't want to skimp on that piece."
Growth and innovation
The best companies are always improving their offerings and looking to separate their technology tools from the competition. Epicor BisTrack is an ERP system built specifically for the building materials industry, with features designed to improve customer service, leverage data and simplify operations.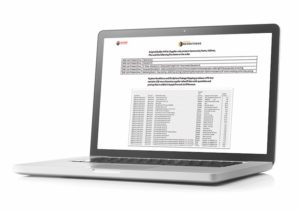 "It's a whole suite of manufacturing, multi-branch customer retention management (CRM), web store, online portal, everything built into one package," says Jason Parchomchuk, Product Manager for BisTrack at Epicor.
BisTrack also includes cloud-based mobile apps as well, allowing users to give customers quotes on the jobsite, make changes on the fly and track deliveries wherever they are. The company recently released mobile apps for iOS devices, joining the existing Android offerings.
"Everything you can do in the system you can also do while you're on the jobsite," Parchomchuk says.
ECi's Spruce software is a cloud- based, end-to-end management software for LBM dealers. It can help dealers with point of sale solutions, accounting, delivery and more.
What sets Spruce apart from other software is the company's depth of knowledge in the lumber and building materials industry, says John Maiuri, President of the LBM and Hardlines Group at ECi.
"For over 30 years, the various people and applications that we manage have been solely focused on the LBM and hardware space," he says. "It's the core of our business. Really, by and large, the only business that we do. And that truly does distinguish us."
ECi has worked hard to find experienced LBM professionals to help guide the product's development.
"There's a massive amount of consolidation occurring every year," Maiuri says. "And through that consolidation, it puts a fair amount of people into the marketplace looking for work. And we're quite fortunate … to be able to attract many of those folks as our business has expanded. We have a stable of industry experts, if you will, within our employ."
Kerridge separates its K8 software from other solutions, Anderson says, with its n-tier architecture. In layman's terms, that means it's "blazingly fast."
"That's the first thing people always notice about our software, it's so much faster than the others," Anderson says. "It's fast, scalable. That's the biggest difference, because most of our competitors use what they call a fat client, so it's a much slower type of architecture. They have to use a lot of other hardware to get around it."
New to K8 is a mobile configurator that will allow users to access the system's tools on the go.
"The big difference in customers, now, is they're looking for more mobile applications, and they're looking for a lot more capabilities on the web," Anderson says.
DMSi's Agility ERP software is used by more than 400 companies in the building materials industry, according to the company.
"The core focus of Agility has always been and will always continue to be inventory control and order management," Melia says. "That's where we have advantages with enhanced business logic and automation over some competitors. DMSi provides efficiencies and streamlining through order entry, order management, and inventory control to name a few. With Agility, the focus is on pushing information toward the end user, so decisions can be made without having to dig in to figure out what needs done for day-to-day tasks."
DMSi has recently added a mobile CRM application that allows salespeople to manage their day-to-day notes and tasks on the go. A new loyalty program for Agility also is designed to help drive repeat business for dealers.
"Mobile apps provide our customers with real competitive advantages, especially when it comes to order- fulfillment," says Melia. "Outside sales reps generate price quotes and new orders on the spot. Production teams 'complete' items the minute they come off the line. Drivers collect a signature, confirm the delivery, and the order is instantly invoiced. Mobile apps mean things happen in real-time, so our customers get products to their customers sooner."
As employees and customers continue to embrace mobile technology, more technology companies are offering mobile solutions to meet everyday business needs.
Main Street Companies created Mobile Visual Pro to help salespeople create takeoffs and estimates while working with contractors in the field.
"It is an application, like an app that is downloaded from the app store, but it's not just an app because it has a back- end software, an admin software component that ties into a dealer's point of sale system," says Owner/Partner Steve Linn. "And so once that admin software is established on their system, then it's able to export all of their products and SKUs from their POS system into this admin software and from there we work with the customer to configure it the way they want to be able to see it on their mobile device and it's uploaded to all of their outside salespeople that are connected with their mobile devices."
The difference between Mobile Visual Pro and other solutions is that instead of it being a live application that's working through a server back into the dealer's system, it's an upload process where all the products and information are uploaded through the server and into the mobile device so that data is always residing on the mobile device. The information is regularly updated when the salesperson connects to the server.
"And because of that, they're able to do their work without any kind of interruption from cell service or lack of cell service," Linn says.
Mobile Visual Pro also increases accuracy by moving salespeople away from the traditional scratch pad and notes that they then would have to de- cipher and enter into the system when they returned to the office. Main Street originally developed the software for use at its own millwork business before expanding it to make it available for any dealer.
"The platform that we built is also great for any product that a building supply company would like to put into this," Linn says. "It's a great tool for somebody that's selling more visual type products. That could be hardware, could be lighting, it could be different things like that. … With MVP if you have your pricing in there, it's building a beautiful graphic estimate and they don't have to send it into the office or tie up people in the office to put it all in the computer. And so, MVP takes it down to maybe a couple of hours vs. three or four days."
MiTek's Sapphire Supply is a solution for whole house designs and lumber estimates that works off of Building Information Modeling (BIM).
"So we model a frame-accurate building," Faulkner says. "When you do it that way, you're actually counting the materials, or using the shape of the building to very accurately count the materials, what builders call a Bill of Materials, or BOM. I like to say we're not really doing an estimate, we're actually doing a take-off. And I differentiate the two by saying we're taking off the material as you need it, we're not just guessing at the material."
This makes orders more accurate and improves efficiency across the board, while reducing waste.
"If you change the pitch of your roof, the plywood count would change, but so would your shingle count, so could your bracing," Faulkner says. "The quote will adjust as the shape of the building changes. You don't have to do any type of reloading of information. The items you're quoting will adjust for that."
Hyphen Solutions offers SupplyPro, which makes it easier for dealers to communicate and manage orders from large builders. SkuSphere, part of the SupplyPro tools, works as a sort of "universal translator" to make it easy to move orders from builders to suppliers without creating confusing mistakes. Renditions, another part of the SupplyPro family, makes it possi- ble for suppliers to use SupplyPro as a single entry point for all their builders, instead of having to use multiple different portals.
"We're now about 30% of the U.S. market for new home starts," Vasquez says. "So, if you want a ton of volume with a simple easy process, that gives you disruptive notifications, so that you can react to changes in real time as they're happening, we're the only software player in town concentrating on this industry that's doing that."
SaberisConnect offers another solution for dealers to improve their efficiency by integrating vendor order systems to their POS or ERP system. The program originally launched as a desktop solution in 2001, but is now cloud- based, offering integration to dealers for $99 a month per location. The company continues to integrate with more vendor systems as dealers ask for them.
"The dealer calls the vendor and asks for integration," says President Doug Syme. "That's how important it is to them now … and as a result we've had quite a few come on board in the last six months."
This fall, Saberis is implementing what it calls "stealth integration," designed to make the process easier and save even more time. The feature will be introduced with some vendors this year.
"The big advantage to it is users don't have to export data from a quote program, upload it to the Saberis server and process it," Syme says. "They will just go into the quote program … click the button, then go to their ERP system, and the order will be there. It all happens behind the scenes."
The goal of SaberisConnect is very simple: to make the process more efficient for dealers, saving even more time in the process. "With the user in mind, SaberisConnect makes a complex process easy and user-friendly. Especially with stealth integration, the process is simple, and very little training is needed." Syme says. "The other advantage of our system is that no matter who the vendor is, the process is the same. … I believe that the best selling feature is the elimination of double entry and the time and errors that are associated with it."
Not every dealer has installed sales, but for those who do, RenoWare Technologies is trying to make managing that part of the business easier.
"Number one, it gives them one central database that all of their sales- people, or admin staff have to put their estimates together," says CEO Murray Cutler. "Then we handle all of the contract and documentation that is required for an installed sales business. For management, it gives one spot that they can go to and look at notes, and details on all customers, all jobs."
While many POS systems have modules that can be used for installed sales, Cutler says RenoWare is superior because it is designed for installed sales only and offers more reports and details.
"The point of sale systems typically report on sales or the gross margin or that type of thing but in ours we have over 30 different reports that are customized specifically for installed sales—things like close ratio for sales staff, so you know what the efficiency of each salesperson is," he says. "Automation of the process and all the details that has to happen in installed sales and the integration of the different estimating programs and point of sales systems is one of the biggest strong points."
Many companies have no idea there is an installed sales solution out there and are making do with something that isn't a great fit, Cutler says.
"They're missing a lot of the tools and they don't know necessarily what they are missing … they just plug along with it and that's why we're trying to get the word out that there is a better solution," Cutler says. "This was designed and built from scratch. We're not resellers; the other partner in the business is a programmer and so this comes from the experience of working with hundreds of stores over the last 20 years to develop what the dealers really need in a full end-to-end solution."
Computer Associates' Ponderosa Building Materials software is a full suite of applications based on 40 years of experience working with building material and millwork clients.
"We are widely regarded by our customers as the best in the industry because of our ability to support customized processes in complex environment and to drive more profits from custom millwork, installed sales, special orders, remanufacturing and other products and services," Gannon says. "Second, Ponderosa's Millwork Product Configurator and built-in Configure, Price and Quote (CPQ) tool is industry leading and lets our customers respond to RFQs faster, with more accuracy and a better understanding of profit margins, thereby giving them an edge over the competition."
Ponderosa and Cleary Millwork recently announced Cleary 365, a configurable, online ordering system that provides 24/7 access to inventory, pricing, quotes ordering and credit information. Ponderosa Software has also introduced its Electronic Signature Capture feature that sends orders to drivers' smartphones or tablets and allows them to capture signatures, add photos and make notes related to deliveries, installed sales and service work.
Paladin Data Corporation has developed a digital retail platform, with the goal of automating time-consuming tasks, so retailers can focus on their customers. Paladin was designed and built for the hardware and LBM industries.
"Our software and point of sale platform streamlines operations and simplifies all phases of business with hundreds of features and valuable integrations," Rogers says. "We also enable retailers to connect with customers through rewards programs and digital marketing outreach."
Paladin is regularly introducing new proprietary features and third-party integrations with software providers, Rogers says, including Mobile2, which facilitates the use of mobile devices in lumberyards or by delivery drivers; Charity Roundup, which allows end- users the option to round up their purchase amount to the next dollar and donate the difference to charity and Rich Rewards, Paladin's royalty-free customer loyalty program.
GPS Insight offers a different—but no less important—technology tool with its fleet management system.
"It's a top priority for lumber dealers to ensure their fleet operations run as effectively as possible to keep up with deliveries and provide the best customer service to their customers," says Jenny Shiner, Marketing Communications Manager. "For a fleet operation, increasing efficiency relates to ensuring trucks receive preventative maintenance on schedule, working as efficiently as possible to deliver the best customer experience, ensuring fuel efficiency, and examining the utilization of delivery trucks."
A fleet management system can improve communication, safety, efficiency and accountability, Shiner says. The GPS Insight system also integrates with many other programs.
"We recognize most lumber dealers use more than just one type of software to manage their entire fleet and business operations," Shiner says. "It can be difficult to navigate several different platforms and ensure the data is being put to use in the best way. To make the process of managing all this data sim- pler for our customers, we work with many other technology providers in the industry, such as Epicor BisTrack, to integrate our solutions. This allows businesses to access all their fleet and business information from one interface."
Overcoming objections
One roadblock to successfully implementing a software solution can be the reluctance of employees to embrace new technology. Providers say that one of the best ways to overcome this is to point to the ways the new software can make their jobs easier.
"The most common concern employees have about fleet management solutions is that the technology is overly intrusive," Shiner says. "'Big Brother' is a term used far too often when describing it, which simply isn't true. Using fleet management data to coach drivers will increase safety, improve productivity, enhance customer service, and ultimately increase revenue. By explaining to employees that the technology will be used to drive organizational growth, not as a tool for punishment or invasion of privacy, they are far more likely to be on board with the initiative."
Employees can be concerned about what new tools means for their future.
"New technology is scary for many employees as they think technology will put them out of work eventually," says Sherwood. "When doing a demo of Seljax we explain that Seljax will save them time estimating and will give them time to use their skills elsewhere in the company, like teaching junior sales staff what they know about products and practices within the industries. This empowers the estimator as most want to pass on what they know."
Often, there is a reluctance to accept change, Linn says.
"A lot of companies have been doing things the same way for so long and the guys in the field are used to just writing things up themselves the same way they always do," he says. "And so we get pushback sometimes on that just because they're afraid of it.
When we have the opportunity to actually demonstrate it and go out in the field with them, and show them how it works, you know, once they see it and once they just try it, they really get on board with it."
Companies often worry about a disruptive conversion process.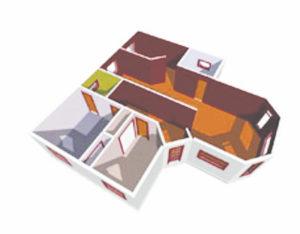 "They're taking attention away from their business to focus on converting over," Parchomchuk says "It's one that we really deal with by saying you can stay with an old piece of software or you can grow your business. A little bit of pain to do the conversion will allow your business to grow considerably further."
Finding time to train employees and implement a new software system can be difficult, Maiuri says.
"That's probably the thing that we compete against most when we're talking to people," he says. "It's not competition from other systems as much as it's competing for people's time to devote to going through the process. One of the fundamental foundations of our applications are that they be easier to use and simpler to ramp and train on. So, fundamentally, software is different today than it was years back, where those older green screen software platforms were menu intensive, as an example. Our newest application today has only two levels of menus to go through before you're within a particular work area in the software, all d signed, certainly, to speed up the process and remove the complexity from both a learning curve standpoint, and a use standpoint."