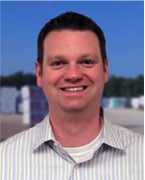 Islandia, NY — Sherwood Lumber today announced the promotion of Kyle Little to Chief Operating Officer. Previously Senior Vice President of Purchasing, Little began his journey with Sherwood in the spring of 2009 and has quickly ascended through the organization, bringing a tremendous amount of leadership and support to every team he has worked with.
A fourth generation lumberman, Little grew up in the hardwood forests of northeastern Pennsylvania, working in his family's lumber sawmill, wood component manufacturing, and retail
business. Over the past 19 years, Little has worked in a variety of roles in multiple industry segments. He got his start as an intern with a lumber co-op, and was quickly initiated into the lumber brokerage world before taking the opportunity to hit the road for a building material manufacturer.
Since joining Sherwood, Little has been an integral part of the family operated lumber/building material distribution company, and over the last four years, has taken on a variety of leadership roles; most notably in rightsizing the company's inventory, developing a comprehensive risk management program, collaborating with the sales team in creating directive go-to-market strategies, and mentoring staff throughout the organization.
Source: Sherwood Lumber