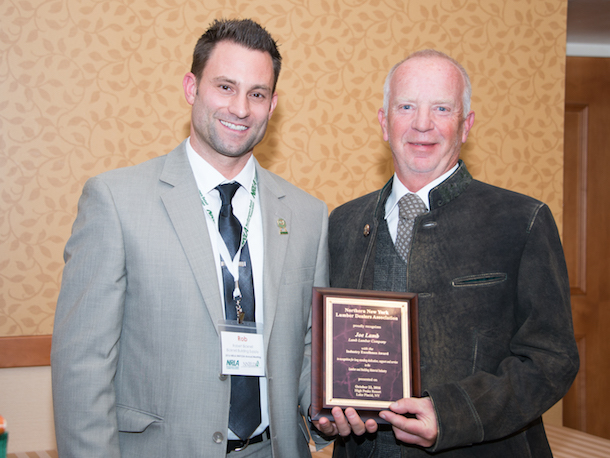 LAKE PLACID, N.Y. — On Oct. 22, the Northern New York Lumber Dealers Association (NNYLDA) awarded Joe Vernon Lamb III, Lamb Lumber Company in Lake Placid, N.Y., with the 2016 Industry Excellence Award. The Industry Excellence Award honors an exceptional employee of the lumber and building material industry who has dedicated their life to the industry and who is recognized with the utmost respect and regard by their peers.
Joe Vernon Lamb III graduated from the Northwood School in Lake Placid in 1973. After obtaining a B.A. in Coaching and a B.S. in Resource Economics from the University of Vermont in 1978, Joe returned to Lake Placid and began working for his father, Joe Lamb Jr., at the Lamb Lumber Company. In 1988, be became President of the company where he oversees all aspects of the Lamb Lumber Company.
In addition to his dedication to the business, Joe has a life-long passion for the U.S. Ski Team. In 1972, Joe was on the 1972 Olympic Nordic Combined Ski Team in Sapporo, Japan. Although an injury took him out of the games, he went on to be a highly decorated U.S. Ski Team Coach and fostered the support of young athletes. From 1981 to 1984, Joe was Head Coach for the Nordic Combined U.S. Ski Team. Among his many accolades, Joe has been inducted into the University of Vermont Hall of Fame as well as the Lake Placid Hall of Fame.
It's a great balancing act for Joe to be able dedicate himself to his business, the Town of Lake Placid, and to athletes around the world. The NNYLDA is proud to honor Joe Lamb with the Industry Excellence Award.
Lamb will be recognized, along with fellow Lumber Persons of the Year from across the Northeast, at 2017 LBM Expo in Providence, RI on Feb. 16, 2017. LBM Expo is the largest regional event in the lumber and building material industry.
Additional Award Winners:
Vendor of the Year Reeb Millwork Corp.
Salesperson of the Year Rick Maroney, PrimeSource Building Products
Outstanding Customer Service Dereck Dodd, Triple A Building Supply
Outstanding Customer Service Ray Gregory, White's Lumber
Outstanding Customer Service Kelly Taillon, Bicknell Building Supply
Source: NNYLDA