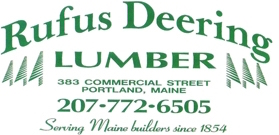 Rufus Deering Lumber Company of Portland, Maine is closing after selling land where the company is located to condominium developers. Eldredge Lumber and Hardware has purchased Rufus Deering's lumber inventory at a Dec. 1 sale. All lumber inventory and 18 of 22 full-time Rufus Deering employees will move to Eldredge's Portland lumber yard, SeacoastOnline reports.
Eldredge Lumber and Hardware general manager Dan Remick told SeacoastOnline "it was very important to us to keep the business intact. Rufus Deering has a great reputation, so instead of letting it close and fragment the business, we were able to integrate it into our Portland facility." The sale also includes a lease on a kitchen showroom in Portland.
A member of the LBM Century Club, Rufus Deering Lumber Company had been in business since 1854. The Forecaster of Falmouth, Maine spoke with employees about the sale. "The land became more valuable than the business," Deering Senior Vice President Dan LaBrie told the paper. LaBrie had been with the company for 34 years.
Rufus Deering Lumber Company's last day of business was Nov. 30.