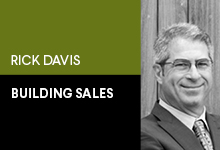 Selling doesn't have to be so difficult. The advantage of being an LBM sales representative is that you sell products customers need and are guaranteed to buy. The job is half done for you. You don't have to convince people to buy, but only need to persuade them to buy from you, a process that is one part competence and two parts timing.
Let's begin with a vital premise that very few industry professionals dispute, specifically that buyers choose a new supplier when something goes wrong with the existing one. Buyers of building materials are creatures of habit who buy from the same people and companies because it is profitable to do so. Changing suppliers with regularity costs money. It means taking time to learn new ordering procedures, dealing with an additional creditor, and meeting a new staff of vendor representatives. It also means venturing into the unknown. In short, changing suppliers is risky and costly.
Pesky and impatient salespeople "hunting" for the sale often  discover they are relegated to the status of a professional bidder because they want instant results. Salespeople who are "farmers" plant seeds of growth by recognizing the best way to gain a new customer is to be the first choice buyers make when dissatisfied with an existing supplier. This creates a series of sales beliefs I have valued for years and know will help you.
1.   Buyers will take your price to get rid of you. The problem for most salespeople is the failure to withhold pricing. Salespeople mistake a willingness to take a price as a sign of interest. It is often the opposite. It is a sign the buyer wants to get rid of you and earns the bonus of having a price to use as a negotiation weapon with an existing supplier.
My advice: Withhold your price until you have established a quality dialogue about a future relationship. It's okay to pass on a request for a bid that takes time to prepare and instead use that time to find a better opportunity.
2.  The dialogue should be about profit, not price. Buyers will never do your job for you by telling you that the price is only one component of doing business. Efficient deliveries, service, and accuracy are the aspects of the interaction that save buyers money. Competitive advantages like brand recognition, marketing support, and sales ideas are aspects of the relationship you offer to help your clients elevate pricing  and  profits. My advice: Understand the larger business challenges your buyers face. Take time to discuss construction processes and marketing strategies. The more you know about your customers, the more you can help without using price as leverage to earn business.
3.    Be the first choice when the timing is right. We live in the generation of online reviews and social media. The old saying asserted it wasn't what you knew, but who you knew. Today it is about being known. It's not who you know; it's who knows you. Position yourself as the person the buyer calls when something goes wrong with their existing supplier.
My advice: Plan a sales journey that includes at least two interactions before you deliver your first price. Establish your credentials as a supplier who raises profits rather than a low-price bidder.
I often hear the term "consultative sales" tossed around as a punch line by the same people who lament frustration with  price-only buyers. The key to success is to slow the process and control the image you project and the value-add you personally deliver. Presume that your price is always identical and then ask yourself what you are personally doing tangibly to make your offer better than all the other alternatives in the market.
Don't make it so difficult because the job is half done. You don't have to sell the buyer on the idea of buying your product, but only in persuading them to choose you when the time is right for them to make a change.
Rick Davis, president of Building Leaders, is a premier sales trainer in the building materials industry. His latest book, Sales Economics: The Science of Selling, is now available at buildingleaders.com. Rick can be reached at rickdavis@buildingleaders.com.