This content is made possible by our sponsors. Click here to add your content.
With deck building on the rise Sure Drive USA wants to remind you about their Mantis Hidden Deck Fastening System. There are many options out there but Mantis has many advantages to other hidden deck fastening systems. The Mantis Advantage is: Superior Holding Power, Ease of Installation, Precision Fit, and Increased Airflow.
This is all good and well for the end user but what benefit does a Mantis stocking dealer get?
Since Mantis comes in four different profile heights a dealer who stocks several different composite deck brands will find a profile height for all their needs. This makes for attractive branded merchandising. With the ability to install Mantis with a pneumatic tool it is nice to know that one tool will install all 4 Mantis profiles. Another great benefit is consolidated invoicing for your hidden deck fastener needs. By far the most important benefit to a dealer is End User Satisfaction. Mantis is proven to increase productivity which makes for a happier jobsite. Below are more details on why Mantis makes a more productive and happier jobsite.
The Mantis Advantage:
 Superior Holding Power
 Mantis clips have been extensively tested and offer superior lateral movement strength and uplift when compared to other grooved decking hidden fasteners on the market. In independent laboratory testing Mantis clips measured 391-foot pounds until the first movement. This is a 42.7% improvement of lateral movement resistance when compared to other similar clip systems. This is important in all regions but especially those that have wide daily temperature swings. This extra holding power keeps decks from "walking" and loosening.
Ease of Installation
 Our revolutionary Eliminator RCS pneumatic installation tool is proven to speed up fastener installation by as much as 80% compared to other conventional methods. This installation method still provides same holding power as our standard hand drive screws. The EZ-Slide attachment makes it quick and easy to install Mantis clips in just about any environment. Simply drop the Mantis clip into the slide attachment, push forward to engage the Mantis tab into the groove and pull the trigger. We have even added a rare earth magnet to our slide to hold our steel coated clips in place, so they don't fall out costing the installer even more time. There is no more having to try and attach a small clip into the nosepiece of a tool, angle it down into the groove to install and then slide it out of the clip sideways to disengage the tool. This is a process of the past thanks to our Eliminator RCS. Just drop in the clip – push forward – pull the trigger and you're done with the Eliminator RCS Mantis installation tool.
The Mantis clip is custom designed to fit securely into the grooved profile of many composite deck boards. Even when using conventional hand drive fasteners to install Mantis you can pre-load the clip into the groove without worrying about them falling to the ground while you drive in the screws.
Precision Fit
Almost all other hidden deck clips on the market are made to fit most grooved deck boards in a "generic" fashion. These clips use a screw to hold a clip to the board. Over time and with natural expansion and contraction of the deck boards, the screws and clips loosen since the "generic" clips are not a perfect fit. This can put your deck's safety, strength and structural integrity in jeopardy. Mantis clips are custom made to precisely fit the groove in the deck board to achieve optimum fit and holding power. We currently have four sizes of Mantis clips that fit 90+% of the composite deck boards on the market. For a list of what precision clip to use for your next decking project please click here.
Increased Airflow
 At Sure Drive USA we are not only concerned about holding down the deck board we are also concerned about the life of your joist, after all this is what supports the entire deck. In our view it is important to make sure this support structure remains as strong as possible over the life of the deck. Our Mantis clips have a base that fits under the deck board. This ensures that the deck board is slightly elevated off the joist, which provides proper airflow. This advantage allows the joist system to dry faster without trapping water under the deck boards, prevents mold and mildew from forming and makes the deck last longer. If you've ever taken an old deck board off a joist, you'll usually find that the joist has already turned black and shows mold from water and moisture being trapped under the board. This common issue makes the joist rot faster than it should. The Mantis design provides ample ventilation. But it is not elevated so much as to cause deflection of the deck board.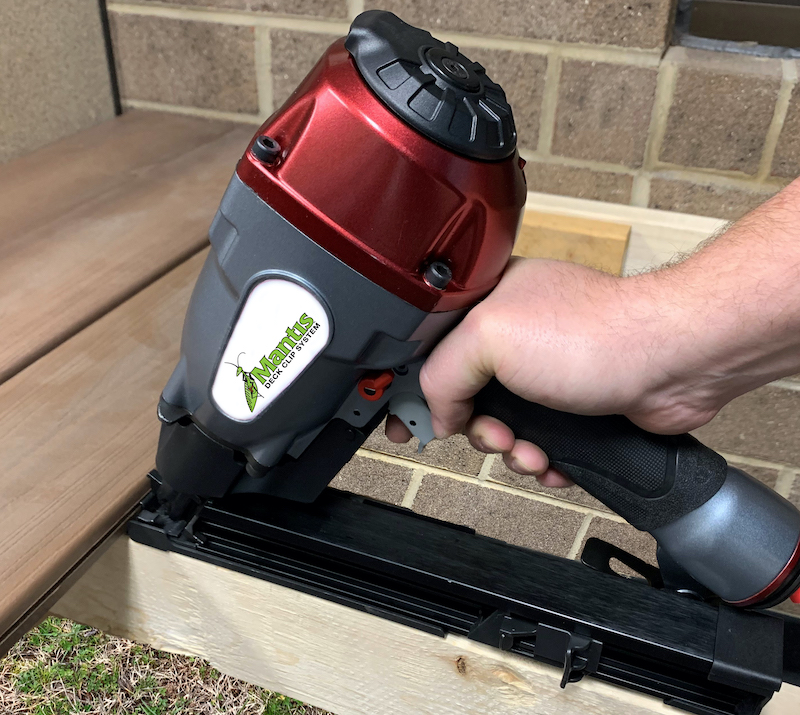 We have succeeded in designing and offering one of the most comprehensive hidden deck fastening systems on the market. We invite you to test us against your current product offering and experience the Sure Drive USA difference for yourself.
All of this is backed by an industry leading 30-year warranty against loose deck boards. In addition, we have the most complete offering on the market. We not only offer the standard Mantis clip but have start, finish and transition clips. We were the first company to offer a solution that made screwing down that first or last deck board a thing of the past. The start and finish clips offer you a solution to screwing down the first and last deck boards. Furthermore, the finish clip can be installed with a flush or over-hang look. We are also the only company to offer a Transition clip which was developed by listening to deck builders describe their need for a clip that would transition from a grooved edge board to a solid edge board for picture framing and detail work.
Mantis has been approved for use by many composite deck manufacturers but we recommend that you check with the composite deck brands that you stock for approval.
Please consider using Mantis hidden deck fastening system on your next decking project!
For an installation demonstration please watch the short video below: