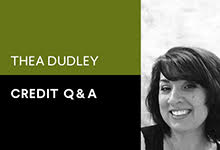 Dear Thea,
I have been noticing more and more accounts that have out-of-state headquarters, from which our third-party credit agency has issues getting information. Is there a way to check credit for out of state prospective clients? Any insight or feedback would be appreciated.
Signed, Wondering in Walhalla
Dear Wondering,
If a cow doesn't produce milk is it a milk dud or an udder failure? If your third-party credit agency isn't working for you, why are they working for you? Have you asked that third-party credit agency why they can't get information? We are not talking info from a third world country, folks, just out of the state—so what is the deal there?
While we are discussing your third-party credit agency, I am going to make the assumption that you have outsourced the credit application processing component of your credit department to them. If they are unable to do the job you have outsourced to them (and I am assuming they are not doing this for free), you may want to rethink this portion of your plan because clearly, they aren't getting the job done. To quote the FFA (contrary to our household belief, that stands for Future Farmers of America and not Father Feeds Animals)—animals produce value or be gone. The same applies to the agency you've hired.
There is no great mystery—any of the business credit report bureaus can provide that information for you. Dun and Bradstreet, Experian business credit, Equifax business credit, your regional National Association of Credit Manager business credit services, and a host of "credit reports for hire" companies are more than happy to take your cash and provide you with all the out-of-state data.
Depending on which seat on the building industry bus you hold, the choice of which bureau to use is each company's personal decision. Based on regions of the country and sections of the industry, the data can be varied in what is available and how robust it is.
One of the largest driving factors for any credit reporting bureau is where they get their data. For example, ask yourself … do you report your AR to any of the credit bureaus? As the old saying goes, "you have to give to get." If you want to know how your potential or current customer is paying their bills to others, share the wealth. It costs you nothing to report the data, just a monthly data transfer.
Depending on which group you choose, the data can vary. It is no secret that getting bank reference information on your customer is Mission Impossible or they give you the option of plunking down $35 for each response. Dun and Bradstreet has a component on their report called SBRI—Small Business Risk Insight—that gives you bank data at no extra charge. The catch? You have to submit your company's AR data in order to be eligible to have that component. You also need to ask for it since not all reps are created equal (shout out to you, Mike).
All of the agency reports look similar in presentation, so deciphering the data is straightforward. No secret decoder rings are necessary, so save yourself some sanity and avoid getting sucked into sitting through multiple demos of each product. Get the basic overview and then move on to price points.
If you don't need to pull a boatload of reports, then consider ordering them through your National Association of Credit Managers so you can pick and choose which of the agencies you want to pull your reports from, and leverage pricing through them.
I am not trying to throw shade at your current process or agency. I'm just pointing out that with all the ways to get the data you're looking for, your agency's explanation doesn't add up. When things aren't adding up, start subtracting.
With more than 30 years of credit management experience in the LBM industry, Thea Dudley consults with companies on a wide range of credit and financial management issues. Contact Thea at theadudley@charter.net.